Improve & Simplify Planning
Get Accurate & Trustable Forecast and Inventory
Get a Proven Approach based on Facts
Guided by Experts & Latest Technology
sophub clients in average
Forecast error reduction 31%
Working capital reduction 25%
Service levels increase 2,5%
Business process by sophub
Our core competences are in demand and supply planning. We built not only the smart technology but also the method and process to release the full potentials of your supply chain. We blend our services and people into your organization to mature your business to world class.
You have probably bought an expessive supply chain application but the business case for buying the application has not yet realized. Technology only works with the right method in place, the right skilled people on board and an agile and transparent process binding it all together. sophub will take an active role to blend the four elements into real business value.
We bring people, methods and technology to the table and ensure improved KPis & profit, reduced costs and complete visibility in your supply chain in an ever changing world.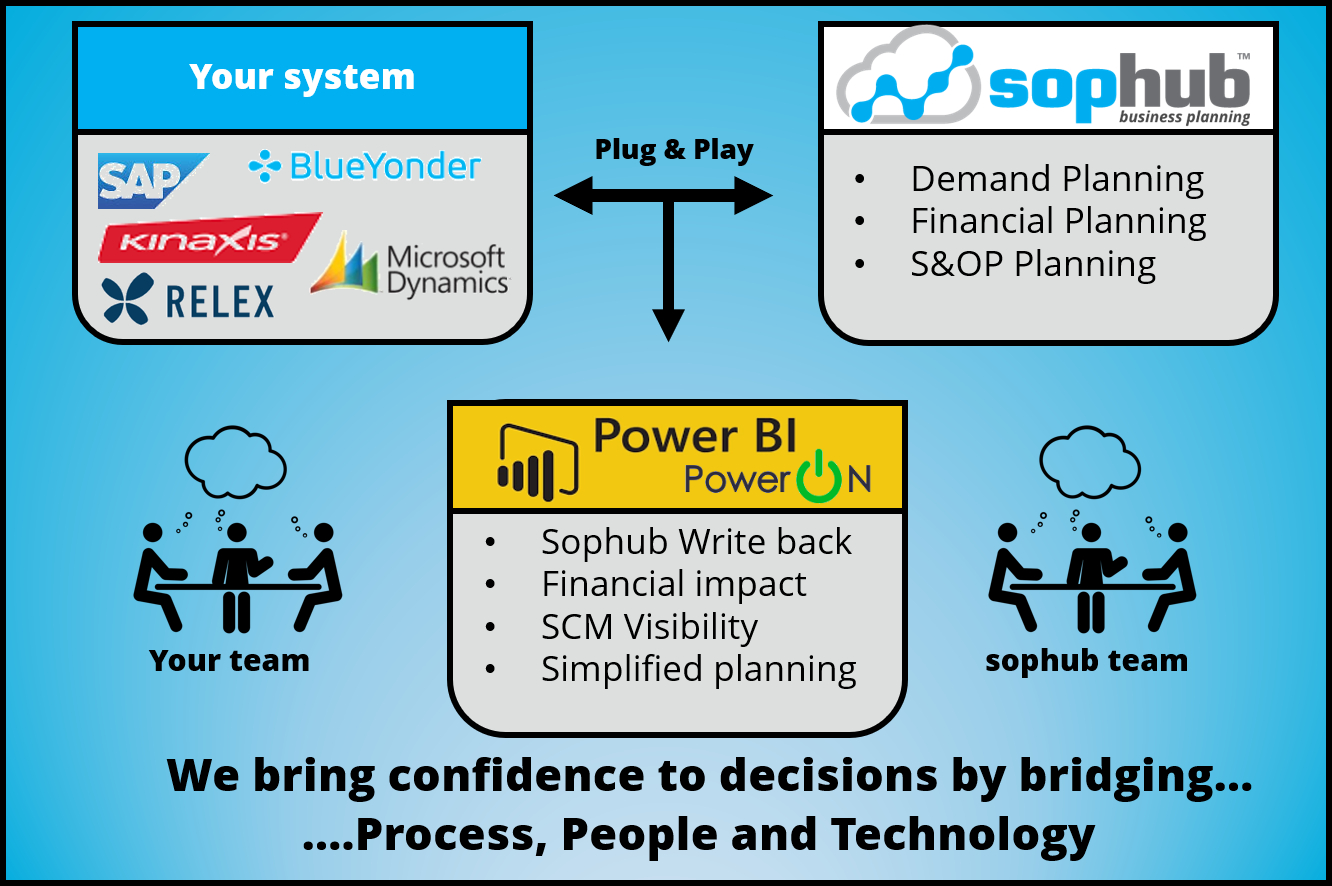 With our methods, people and technology we anchor your market insight into an accurate forecast and optimized inventories. On top you get sophub accelerators, process support, people training and sophub experts to ensure progress and results. In other words you do not need to know about statistical models, machine learning, big data, inventory optimization and complex software to leverage and get all benefits from digitizing your supply chain.
25% of the largest Danish companies use ...
  ..."sophub as a demand and supply planner in the cloud"
"sophub handles 80% of our forecast with a forecast accuracy of 80%.

It release time, ressources for the last 20% and improve our inventories and profit"
Royal Unibrew
(published in SCM.dk)
sophub is not an IT project ...
we create bottom line value by People, Process & Technology combined
GN audio


Podcast:

Why Jabra selected sophub and pros & cons for business process outsourcing in a planning context

Royal Unibrew


SCM article

about Royal Unibrew and sophub and the effects of reliable planning