Best Practice does not arrive in a ERP- or planning solution or by increasing FTE. Human estimates are typically fraught. Inaccurate forecast cost business millions of losses in revenue and huge investments in systems and staff leave only minimal results, at best.
Applying sophub will move planning to Gartner Group maturity level 4.
sophub is not just another tool. sophub comprises a process, expert support, training support and intuitive tools.
sophub takes all the complexity out of new technology & research and anchor it with your business processes and people competences in a simple setup.
sophub clients have in average improved forecast error by 31%.
Besides better performance it instills trust and consistency in the demand and inventory planning allowing your team to focus on the value-added processes during your S&OP.
Attaining 6% in better forecast accuracy allows for a 10-15% improved stock management. In average sophub clients have reduced working capital with 25%.
sophub solidifies the S&OP process by bringing the demand & inventory into Best Practice territory.
Best Practice Territory: Accuracy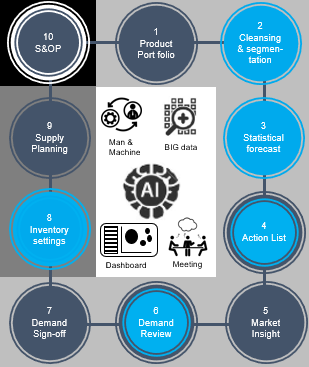 The foundation of any Best Practice S&OP starts with the Demand Planning processes handling the product port folio (NPI/EOL). Data is extracted from the ERP, APS or promotion tool and injected to the sophub engine. The sophub engine cleanse and segment data according to data patterns in sales, promotion, big data, and any data collected in previous submissions provided by people in your organisation. The artifical intelligent component of sophub filter, classify and analyze the data to create the best statistical forecast a machine can generate. The algoritmns are research based and proven on your own data. The sophub engine typically improves accuracy by 15-50% compared to existing ERP tools. sophub statistical experts review the forecast before releasing the forecast. The statistical forecast is provided together with data insight found during analysis and customizable action list.
By following the sophub process only a fraction of items have to be reviewed, so people instead can focus on the value added market insight. We monitor accuracy of critical KPI's such as effects of the manual change, forecast accuracy and deliver dashboard reports that enhance your overall S&OP Best Practice journey.
The people in your organization use sophub either in existing ERP, BI or APS systems or within microsoft Excel. It reduce the learning curve and make transition easy. sophub plugin are available for the major vendor solutions. The data will float seamless between sophub and existing system. People will just get a handfuld of new features missing in your current tool.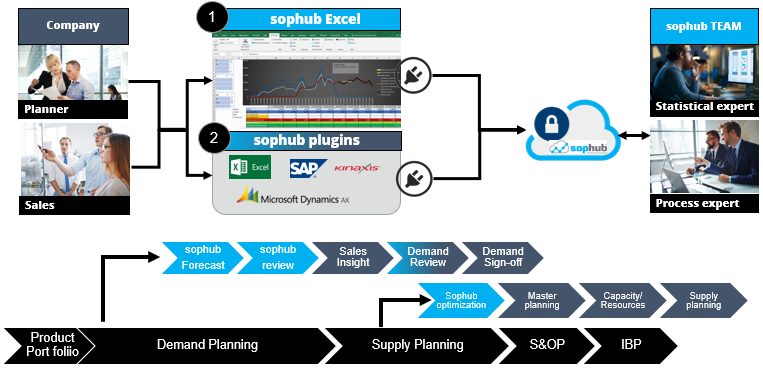 The data insight is utilized for the inventory optimization for the different demand segments to ensure service levels and reducution of working capital. It typically reveal a saving of 25% in working capital compared to as-is.
sophub Supports Your Industry
Retail
sophub minimizes typical OOS challenges and handles promotions, POS-data, consumer trends and delivering the statistical forecast in daily buckets.
Pharma
Forecast challenges due to patent- and product lifecycle is tackled by sophub along with the complexity of various sales channels and price sensitivity.
FMCG
Promotional effects is one of sophub's specialities along with consumer trends, seasonality and product segmentation driving different forecast levels.
MFG
Manufacturing is characterized by a broad spectrum of forecast challenges spanning from sporadic demands to use of leading indicators.